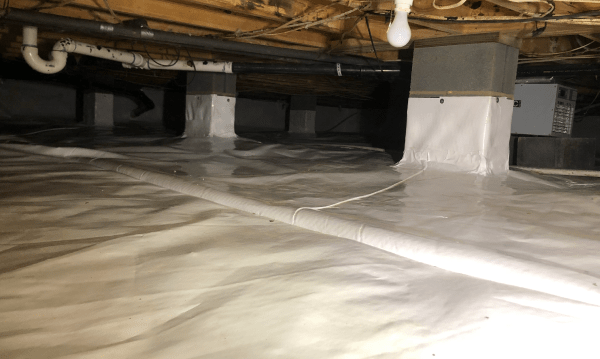 Crawl Space Encapsulation
Approximately 60 percent of the air you breathe in your home comes from your crawl space or basement. Due to the climate of our area, we often see problems in crawl spaces and basements, including mold and mildew growth, wood decay, and poor indoor air quality. Clean & Dry Environmental Solutions can develop and implement a waterproofing or encapsulation solution to keep you and your home dry and comfortable no matter what type of foundation, wet basement, or damp crawl space you have.
A dirty crawl space underneath a home is a BAD idea for many reasons, including water seepage, high humidity, heat loss, rodents, insects, mold, mildew, radon, and a host of other potential problems. Our Clean & Dry Crawlspace System completely isolates your home from the earth, and when combined with dehumidification, helps reduce mold growth and rot from your crawl space. The Clean & Dry Crawl Space System also helps seal out musty odors, insects, rodents, and radon and keeps water seepage in the ground and out of your home.
Crawl Space Encapsulation FAQs
There are many causes of wet, damp crawl spaces including improper exterior grading, high water tables, inadequate waterproofing, leaky water heaters, clogged guttering and downspouts, etc. Clean & Dry Environmental Solutions can identify the source of the water issue, design a solution to solve the problem, and properly execute the plan to prevent further issues and make your crawl space cleaner and drier.
Creating an encapsulated crawlspace is a newer technology that greatly improves the air quality in your home, eliminates costly structure problems, and eliminates the environment in which mold, fungus, bacteria and insects thrive. We install high quality crawl space liners and odorless vapor barriers to stop moisture from entering the crawl space from the ground. A crawl space encapsulation project is not complete until all access points are completely sealed so that you can control the environment. The end result is clean air with no source of contamination coming from the conditioned crawl space.